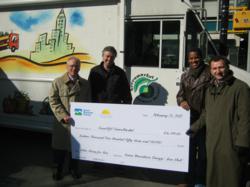 New York, NY (PRWEB) April 30, 2012
Green Mountain Energy Company and its customers are helping a New York City Greenmarket farmers market harness the power of the sun with a $ 16,599 donation to outfit an educational van with solar panels. GrowNYC, organizer of Greenmarket, the nation?s largest urban farmers market network, will soon run its education station with solar power provided by the Green Mountain EnergyTM Sun ClubTM. The station will enable visitors to learn not only about the benefits of sustainable farming but also sustainable energy.
?We were so excited to hear about our selection to receive the solar donation from the Green Mountain Energy Sun Club,? said Michael Hurwitz, Director of Greenmarket. ?Greenmarket ensures that New Yorkers have access to the freshest and healthiest food in the region. To be able to educate customers on this mission as we cook with solar power really brings things full circle.?
The donation will go towards a new solar array on a Union Square Greenmarket vehicle that is used at events where Greenmarket staff show audiences simple ways to buy, prepare and cook farm-fresh products while educating customers about sustainable, small-scale farming in the region where they live. This installation will provide a cleaner source of power for these interactive learning experiences. Information about solar energy will accompany the van via signage near the Greenmarket set-up in Union Square.
?GrowNYC does a magnificent job of positively impacting the global environment through sustainable agriculture education,? said Paul Markovich, president, Green Mountain Energy Company Residential Services. ?Green Mountain is pleased to give back to non-profits that work diligently to make the world a healthier place.?
Green Mountain presented the check to David Hughes, Operations Manager for the Union Square Greenmarket on behalf of the Sun Club, a voluntary program in which Green Mountain residential customers in New York can make monthly contributions toward solar generation systems for non-profits. Organizations can apply for these donations and if selected, receive a monetary donation to fund solar power installations and to educate the community on the importance of this abundant, renewable resource.