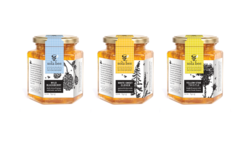 (PRWEB) March 28, 2013
Sola Bee Farms Honey Packaging, a project developed by UNIT partners, was chosen as one of 242 award-winning designs in the most recent HOW International Design Awards. This highly selective and well-regarded competition sponsored by HOW magazine, now in its 20th year, recognizes outstanding creative work produced by individuals and creative agencies from around the world.
A team of design-industry veterans judged nearly 1,000 entries in 15 categories, and selected winning projects that demonstrated an ideal mix of concept, strategy and execution.
Entries were judged according to these criteria: